People ask me, "how did you become interested in local government as a citizen?".
There isn't a short answer, but rather a story that tells how every experience and every person in my life inspired me to get involved. And it starts with my upbringing…
Growing up the daughter of two working-class, devout Christian parents on 100 acres of fourth-generation farmland grounded me in faith, family, and hard work. My childhood centered on believing and trusting in God first and foremost, working for what you want and need, learning how to use your giftings to help others and take care of your family, and loving your neighbor. My parents taught me and my sister to step up, don't sit back. Be respectful, even when you disagree. Build character and integrity, and don't sacrifice either for anyone or anything. Admit when you are wrong. Live a life worthy of a good name, and then don't let anyone take it from you. Know your strengths and accept your weaknesses. Give more than you get. And finally, learn from your mistakes, because you will make them.
I had the upbringing that everyone deserves, but many do not experience and that is not lost on me. It wasn't until my teenage years that I really began to understand the sacrifices that my parents made to ensure that my sister and I had everything that we needed, and oftentimes, wanted…not just physically, but emotionally and spiritually.  They showed up.  They disciplined us.  They supported us.  They got involved.  They simply wanted us to have a good life…and I want that for everyone.
It is from a heart anchored in gratefulness that my love for others grows, and my parents are solely responsible for planting those seeds.
I grew up in a home within a village of family members – grandparents, aunts and uncles, and cousins. We farmed for "fun" and "fellowship" and shared everything that the land produced with others. On any given day, a familiar face would stop by to refill jugs with fresh well water, fill a trunk with tomatoes or watermelons, or restock cartons with blue chicken eggs. Through these simple acts of kindness, I learned the value of hard work and the importance of living in a community.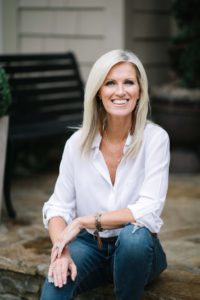 At 15, I got my first job. With the support of my family and friends, I was able to balance work, multiple extracurricular activities, and academics successfully graduating high school with an Advanced Diploma. I competed and earned a Junior Miss academic college scholarship to the University of Alabama in Huntsville where I received a Bachelor of Science in Business Administration focusing on Marketing and Health Care Administration.  During college, I worked 2, sometimes 3 part-time jobs, while maintaining my studies, leading campus tours, and serving as a volunteer through my sorority for Girl Scouts of America.
In 1994, during my senior year, I met and fell in love with my husband, Russ, a Knoxville native and dedicated public servant. I was immediately drawn to our shared family values, commitment to hard work, and desire to live a life of service above self.
Russ was in the throes of his final year of medical school at the University of Tennessee in Memphis. He had a similar story – hard work was ingrained in him.  He worked several jobs through high school and college and went on to pursue his dream of becoming a physician, all while being an active and honored volunteer in his community since the age of 16. The son of Farragut Intermediate's founding Principal, he valued education and the pursuit of opportunity.  Today, he currently serves as Chief of Knox County Rescue, is the tactical physician for the Knox County Sheriff's Office SWAT, is a member of the Knox County E-911 Board of Directors, Field Trainer for Global Surgical Medical Support Group, a member of the Knox County Fire and Rescue Task Force, currently working on commissioning with the 374th Air National Guard, and is the President of MMC Anesthesia, PC.
After marrying in 1996, we made the decision to build upon Russ' Knoxville roots and made Knox County our home.
Over the past 25 years, Knox County has been so good to us.
It has provided incredible job opportunities, exceptional education, beautiful & fun recreation, deep friendships, and countless ways to embrace the Volunteer Spirit. I have had the privilege of working as the Executive Director for a local rehabilitation company, the Human Resources Director for a Knoxville based global entertainment lighting company, a consultant for non-profit development and personnel management, created a small jewelry design business, organized numerous community groups, served or led multiple boards, committees, focus & stakeholder groups, served as a panelist in land use and planning discussion groups, was selected as an emerging leader by the Community Action Committee, and was chosen as Vice-Chair of the Knox County Government Ethics Committee.
But my most treasured experience is becoming a mother in 2004 to our son, Jackson, and then again in 2005, to our second son, Maddox.  When my boys were born, they became my world.  Russ and I had worked hard and planned well for our future family, and I was able to focus all of my attention on them. When they began elementary school, I threw myself into supporting their teachers and their school, and the entire school community. It was during this time, that I had my first real, personal encounter with local government…I was unable to eat with my child in the school cafeteria due to "overcapacity" enrollment.  This was my first realization that the decisions made on the local level impact me and my family in big ways, and in small ways, and in ways that I had never even imagined.  So, I rolled up my sleeves and started asking questions. After years of research and countless conversations with county departments, school and government officials, community leaders, and parents, I committed myself to bring awareness to the needs and visions of not just my community, but every community in the place that I proudly call home.
It's oftentimes hard and frustrating, but my boys daily reinforce my passion to keep seeking outcomes that make our communities better. I want them to embrace and experience the same sense of community, connection, and commitment that shaped my life and Russ' life – that is why our family believes that you get more than you give when serving others. That is why I am running for office.  I will always put community first…I will always seek to do what is right…and I will make this work my priority.  I will work hard to earn your confidence and I will be accessible to you.  This is my story.